With real trophies!
DETAILS:
Date: Sunday December 12 (9-11am)
Format: LiChess Arena
Entry Fee: Free
Registration Deadline: Friday December 10, 10PM
Sections: K-1, 2-4, Open.

Players in the grades K-1 section will only play others within those grades
Players in the grades 2-4 section will only play others within those grades
The Open section is open to all, including parents and family members
The Open section will start later (10:30am) and run until noon, to allow K-4 players from other sections to play as well

Time Control: 10 minutes + 2 seconds per move
Awards:

Top 3 Q300 students in Kindergarten, 1st, 2nd, 3rd and 4th grade will receive trophies
Top 3 Q300 students in the Open section will receive trophies
All participants will receive custom Q300 chess pins

Zoom: We will be running a Zoom conference on game day, open to the entire Q300 community. The link will be in the check-in email on Saturday. We'll use the Zoom for many different things:

Opening / "welcome" ceremony
Select game reviews by IM Saudin Robovic
Tech support and Q&A
Award ceremonies

Notes:

This event is open to Q300 students, their siblings, and parents/family members (open section)
The tournament links will be sent out on Saturday December 11.
Please email us (Q300ChessTeam AT gmail DOT com) if you have any questions.
This event is brought to you by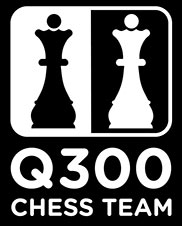 and


Links to our past events: